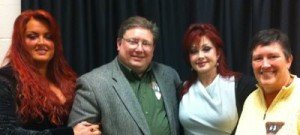 As I grow older, I realize the power and importance of threads. Our lives are filled with common themes, people, traditions and places — threads. Those threads are part of what gives us strength, celebrate the pinnacles, keep us fighting on the days when we want to just wave the white flag and ultimately, help define who we grow up to be.
The threads that endure for decades literally become part of the fabric of our lives.
I'm blessed to have many threads that have done just that….been a part of my life for so long, they're embedded in my soul.
I got to celebrate one of those threads tonight.
25 years ago, my best friend from high school Carron (that's her in the yellow) and I started following an emerging country act… the Judds. Through a series of quirky moments — we met Wy and Mamaw (Naomi) at a concert in Milwaukee and a friendship was struck.
For the better part of four or five years, Carron and I would hop in a car whenever the Judds played in the midwest. We'd meet up with them for lunch or just hang out before the show and when the concert was over, catch a late dinner or watch Andy Griffith on their bus.
I'll never forget the call from Mamaw, asking us to travel to Peoria, IL, to be a part of their first TV special. Who could say no to that?
When Mamaw retired in 1991 that ended our extended Judd tour (although we often caught one of Wy's solo concerts) but it certainly didn't end our friendship or their influence in my life.
There was Judd music woven in our wedding ceremony and when Suzy and I stepped onto the dance floor as a married couple for the first time — it was to one of Wy's songs.
The guardian angel nightlight they sent us when Kelsey arrived lit the way to many a late night feeding. And a song Mamaw wrote sums up my own life's mission statement (Give, Gratitude, Grace) and often is my own personal call to action.
The Judds are in the middle of their Last Encore tour and it only seemed fitting to meet up with Carron (who now lives in Portland) and experience it together one last time.
The picture above isn't just four friends who haven't seen each other in awhile. It's not just a concert memory or a trip back in time.
It is a snapshot that captures a 25-year-old thread. A thread that has been woven through some of my life's most incredible moments and has helped define who I grew up to be.